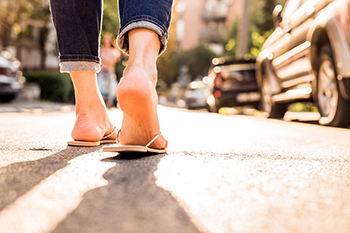 There are people who believe that flip-flops can be a lazy shoe to wear. This may be a result of the fact they are disposable and overly casual. Despite these beliefs, sales for these types of shoes have increased among men and women across the globe. Men wearing flip-flops date back to the mid-20th century, who wore similar shoes as house shoes. They were constructed of rubber materials and were then sold worldwide. As time progressed, they were known as thongs, which is a term for a leather strap. This piece of material lies between the big and second toes and keeps the shoe on the foot. Eventually, the name changed to flip-flops, because of the slapping sound made when you take a step, and became available in various styles and colors. The shoe became more popular in the 1960s when they were worn as beach or poolside shoes. If you would like additional information about how flip flops can affect your feet, it is suggested that you confer with a podiatrist who can provide you with pertinent knowledge. 
Flip-flops can cause a lot of problems for your feet. If you have any concerns about your feet or ankles, contact the foot specialists from Spartan Podiatry. Our doctors will assist you with all of your foot and ankle needs.
Flip-Flops and Feet
Flip-flops have managed to become a summer essential for a lot of people. While the shoes may be stylish and easy to slip on and off, they can be dangerous to those who wear them too often. These shoes might protect you from fungal infections such as athlete's foot, but they can also give you foot pain and sprained ankles if you trip while wearing them.
When Are They Okay to Wear?
Flip-flops should only be worn for very short periods of time. They can help protect your feet in places that are crawling with fungi, such as gym locker rooms. Athlete's foot and plantar warts are two common fungi that flip-flops may help protect your feet against.
Why Are They Bad for My Feet?
These shoes do not offer any arch support, so they are not ideal for everyday use. They also do not provide shock absorption or heel cushioning which can be problematic for your feet. Additionally, you may suffer from glass cuts, puncture wounds, and stubbed toes since they offer little protection for your feet.
More Reasons Why They Are Bad for Your Feet
They Slow You Down
May Cause Blisters and Calluses
Expose Your Feet to Bacteria
If you have any questions, please feel free to contact our offices located in Battle Creek, and Marshall, MI . We offer the newest diagnostic and treatment technologies for all your foot care needs.
Read more about Flipping Out About Flip Flops